Ambient Menu Accredited Venues have been acoustically assessed to ensure they are conversation friendly. But what about the taste? I leave that to Amanda McInerney from Lambs' Ears and Honey 
Amanda studied her Le Cordon Bleu Masters in Gastronomy, then on to complete the Le Cordon Bleu Graduate Diploma in Advanced Studies in Taste in Paris in 2019. I believe she has the credentials to ensure the quality of the food, so here is what she had to say about Aurora Adelaide. 
"While restaurants in Adelaide specifically, and Australia more generally, can certainly boast a wide selection of absolutely world-class food, often the same cannot be said of the service. Too frequently service in even high end restaurants is casual at best, and bumblingly inept at worst – so it's a joy to find the kind of professional service that an exceptional dining experience merits, especially when it's in our own home town.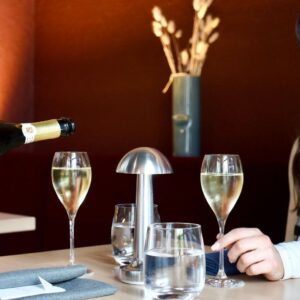 You'll find Aurora down at the arty end of Adelaide, in Light Square. It's part of "Light", a not-for-profit project of several buzzing spaces designed to energise creativity, while focusing on the well-being of staff. Aurora commits to creating authentic and inclusive dining experiences using the flavours of sustainable local produce, while nurturing and training their staff to a level of professionalism we don't see too often in this part of the world.
Both the food and the service here are detail-driven. This shows from the time we are seated, when the coeliac-sufferer in our dining party is presented with the same menu as the rest of us, but with discreet ticks and crosses next to the dishes denoting those safe for him to enjoy – and that was actually most of them, with only three dishes noted as containing gluten.
It was further displayed in the wine service. I'm something of a wine-fascist, who is driven mad by the Australian habit of serving over-chilled white wine. Chardonnay, in particular, should not be served as cold as other white wines, so it was a quiet little delight to me to note that the very pleasant French white I ordered came without a hint of condensation on the bottle. A small detail, but an important one when it comes to the characteristics of this wine.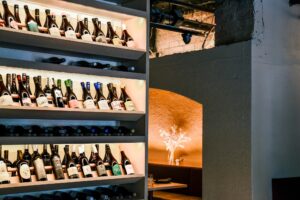 We ordered widely from the current menu and were thrilled as each dish was presented and unfussily described by pleasant, informed and proficiently capable staff.
Delicious charred squid, served with Boston Bay guanciale, yuzu and cucumber was unexpectedly, and very pleasingly, rich and creamy. Lowan Park chicken cream with scorched onion, roast potatoes and pickled walnut was absolutely all about the creamy sauce, which surprised with an incredibly full-flavoured chicken-ness, and crunchy cubes of rice cake were perfectly complimented by a lightly fragrant coconut sauce with just a hint of warmth to it.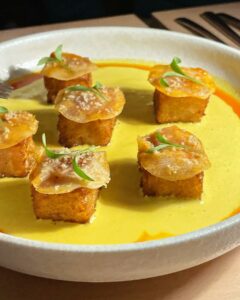 Larger dishes included a divinely moist slice of Cone Bay barramundi sitting in a sea of the silkiest of veloutê sauces, surrounded by local pipis and finely chopped fresh scallops, and beautifully pink beef served with a fresh chimichurri and a wattle seed mustard.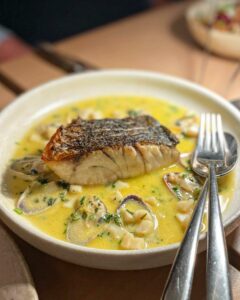 Side dishes get just as much attention as the mains at Aurora – make sure to order the fried cauliflower with date, cranberry and soy pepitas. Your mouth will thank you.
Mostly replete, our shared dessert of dark chocolate with hazelnut praline was just the exactly correct amount of sweet and indulgent to end what was a truly splendid meal.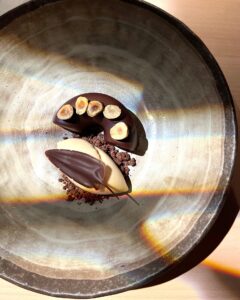 Most of us don't do fine dining all that often, so when we do we definitely want it to be special – and special is just what you'll get at Aurora, from beginning to end.