Ambient Menu collaboration: Hut and Soul, with Geddes Wines
Photography on the night from Save this Moment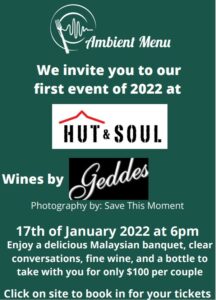 17 Jan 2022
06:00 PM – 8:00 PM
OVERVIEW
Geddes into Hut and Soul, and Save this Ambient Moment
Ambient Menu collaboration: Hut and Soul, & Geddes Wines
Photography on the night from Save this Moment
17 Jan 2022
06:00 PM – 8:00 PM
Purchase Tickets here https://www.eventbrite.com.au/e/ambient-menu-collaboration-hut-and-soul-with-geddes-wines-tickets-233236285007 
OVERVIEW
Geddes into Hut and Soul, and Save this Ambient Moment
The Ambient Menu brings you an exclusive dining experience that guarantees delicious food, superior service, and easy conversation.
Hut and Soul https://www.hutandsoul.com.au/
Hut and Soul is the Ambient Menus first Accredited venue. We have a strict set of guidelines restaurants must meet to attain accreditation. This (almost) guarantees you an Ambient dining experience.
Established in 1998, they bring the magic of South East Asian Cuisine, earning them the title of Best Asian Restaurant in 2020. They compliment their tantalizing food with their amazing hospitality, their motto is 'you come in as customers, but leave as friends'.
Enjoy a 2-course banquet including Charcoal Satays, Squid Tentacles, followed by Mamak Fish Curry, Sanur Goreng Chicken, Singapore Chilli Crab, complimented with Papaya Salad and Jasmine Rice.
Geddes Wines https://geddeswines.com.au/
On the night, enjoy a selection of Wines from Geddes Wines, and take home a bottle of your favourite, on us. This husband-and-wife team include Tim, the Winemaker, and Amanda, a trained chef. Together they bring considerable experience to the food and wine game and run this award-winning winery. Tim is quite humble, their wines have been awarded countless trophies and countless medals, but you'll have to ask to see them at the cellar door as they aren't on display.
All their fruit is sourced locally and is hand-made in their Blewitt Springs' winery. Geddes' long-term goal is to remain boutique by sourcing distinctive small parcels of fruit from select sub-regions of McLaren Vale and turning it into wine with their own hands.
"These wines are created, not produced. Tim takes great pride in getting to know the growers and stopping to have a beer with them – getting to know them as the characters they are. We can trace all the footprints of the grapes down to the truck driver that delivered them and their lovely wives that keep them on the strait and narrow. The winery is lucky enough to still deal with the same growers from our establishment in 2007. We stop for lunch and celebrate the vintage rather than endure it".
Save This Moment Photography https://www.savethismomentphotography.com/
Save this Moment Photography will be there on the night to capture the evening. Leayshia focuses on capturing moments in time between people on every level. Her sessions are full of connection, kisses, and laughs, while focusing on the stillness, craziness, touch, that makes every moment, of every connection, that occurs every day.
So let's get behind the hospitality industry once again, and support our local business start with a cracker of a New Year!
Be quick – this dinner is sure to sell out!
Note: This event does not cater for dietary requirements.
Terms and Conditions of Entry 17 Jan 2022
PRICE
$100 per couple, with all proceeds going back to the producers.